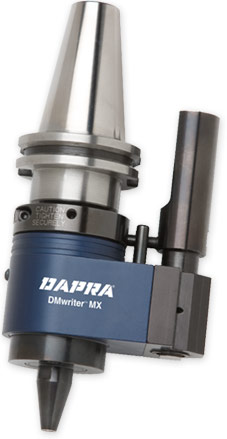 The Affordable Alternative to Secondary Direct Part Marking
Mechanical CNC spindle marking tools are easy-to-use, economical, permanent marking devices that can be used to streamline your production process while marking a wide variety of parts and materials. Dapra's DMwriter MX CNC marking head was designed to easily integrate into vertical or horizontal machining centers, milling machines and equivalent CNC machines with a rotating spindle, with a simple installation process that is similar to integrating a tapping head or angle head.
The DMwriter MX is a spindle-actuated mechanical dot peen marker that does not require electrical or compressed air input. It cold-forms a series of permanent, discrete or connected dots with precise, low-stress marking force. It is a very cost-effective alternative to expensive standalone dot peen marking machines, vibrating stylus heads, pin marking machines and alternative marking methods such as chemical etching, die or roll stamping, laser marking and messy ink printing.
The dot peen marks produced by the CNC spindle marking head are permanent and easily readable to meet product identification and traceability requirements. The DMwriter MX provides a very affordable and cost-effective solution for permanent parts identification in a wide range of manufacturing industries.

Contact Dapra today to learn how DMwriter MX can streamline your marking process and save you time and money!
Would you like to submit more detailed specifications to facilitate the quoting process? Click here to fill out our Application Data Sheet.
All blue fields are required.